MCB series Molded carbon block filter cartridge
MCB series molded carbon block filter is made of PAC (powdered activated carbon) and polyester fiber, with high adsorbtion capacity and long service life. Molded blocking method results in lower carbon fine release and higher efficiency.
Inquire Now
Specification
Comparing to traditional carbon block filters, molded blocking method makes it possible to bind PAC and polyester fiber together, capacity of adsorbtion is upgraded dramatically with the same cartridge size. MCB series filters can be used for drinking, commercial, and industrial water and industrial liquids purification, with standard sizes of 2.5"x10", 2.5"x20", 2.5"x30" , 2.5"x40", 4.5"x10" and 4.5"x20".
FEATURES
• Molded block method
• Ultra high adsorbtion efficiency
• Long service life
• Low pressure drop
TECHNICAL DATA
Maximum temperature: 39.2-176°F (4-80°C)
Recommend flow rate per 10": 1.06gpm (4L/min)
Maximum replacement Δp: 14.5psi (1.0bar)
Service life per 10": >5000G@1GPM
Pressure drop: <3psi@1GPM
Norminal rating: 10micron
OD: 2.5"(67mm)
ID: 1.1"(28mm)
PRESSURE DROP VS. FLOW RATE GRAPH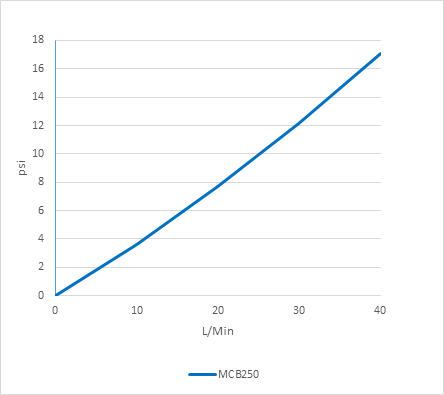 FREE CHLORINE REDUCTION GRAPH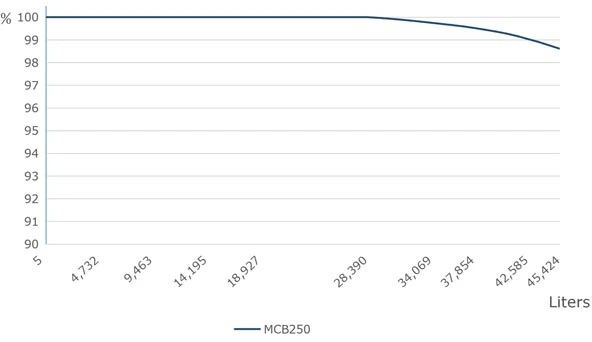 ORDERING INFORMATION
SF
MCB
250
BB
A B C
| | |
| --- | --- |
| SF | Brand name (optional) |
| A | Filter type- W= string wound, PP= melt blown, PPL= PP pleated, MCB=molded carbon block |
| B | Length- 250= 250mm, 10=254mm, 20=508mm, 30=762mm, 40"=1016mm |
| C | Additional information: BB= big blue/4.5" diameter, blank=drinking water applications, M=industrial liquid applictions |