Brief introduction: A Practical and Quality focused water filter manufacturer.

SF Filter (ShuangFa Filter) is one of the earliest filter manufacturer in China, established in 1991, product certified by NSF since 2015, WQA membership since 2016, focused on filter cartridges and filtering equipment for drinking water treatment and industrial liquid filtration/purification.
Our product includes activated carbon filter cartridge, string wound filter cartridge, PP melt blown filter cartridge, membrane pleated filter cartridge, countertop filter system, water purifier and filter housing, filter bag, high flow filter cartridge, bottle filter, etc.
We believe data doesn't lie, at SF, research and quality control protocols are developed and carried out center on product performance. The company had been implementing ISO 9001 quality management system since 2017, and had it certified by SGS in 2022.
We are experts on string wound filter! We have the latest technology, 20 years of experience and a complete raw material supplying chain for it. Since 2005, our wound filter has successfully maintained a large market share in Japan. Since 2016, our string wound was been selling to North America.
We dedicated our research to carbon block filters. We've been manufacturing carbon blocks since 2009 and it became our primary focused research in 2016. Our advantages are material quality control and filter function control, providing good quality filters at reasonable prices, which we believe is a good option for our customers.
Since 2019, we've been developing heavy metal removal carbon blocks, our goal is to make a filter which can remove dangerous/undesired substances from water but remain the minerals those improve taste and helpful for health, so people can use only one filter to access healthy water and replace once/twice a year!
Our head office located in Guangzhou, China, and we have branch companies in Hong Kong, Hebei and Shanghai (Kunshan).

Our mission: Every Filter is Cool! - we believe we're giving souls to our filters, and they'll help the people who they meet.

Being managed by an honest and professional team, SF Filter integrates the latest technology and the best material, pushes the boundaries in product developments, provides reliable, high quality and innovative filters to the global market. Our quality policy is- Always higher than customer's expectation. We provide reliable, high quality and innovative filters to global market, be a world-class leading filter company.

Our value: Integrity & Accountability

We are committed to absolute trustworthy and ethical business practices in our dealings with customers, employees and suppliers. We also expect our employees and our suppliers to be absolute honest with us to make our tasks simple and efficient.
We treat every task like one step of a journey, every employee would performance excellence, integrity and accountability in every step, think in advance before delivering tasks to next colleague, make ways for the next step, to make the journey smooth and enjoyable.

Our practice: High Standard & Innovation, Stand the test of time.

SF (ShuangFa) means win-win in Chinese, we work in pursuit of win-win situation in dealings with our stakeholders, so that we'd get support from our customers, employees, suppliers and our community. We believe that made in China can't live on low price by reducing quality, so we've applied Japanese Industrial Standard and NSF/ASNI standard in our production, kept impressing the market by our consistent high quality products.
Furthermore, we dedicated to product developing and improving, cooperation with leading companies helped us achieved many cutting-edge technologies. We will be always trying to make the quality and service higher than the expectation of our customers, results in a sustainable company growth.

Our quality policy: To be Practical and Quality focused.

The Chinese idiom Shi Shi Qiu Shi was invented by historian Ban Gu(AD32-AD92), means decisions should start from reality, theories should be linked with facts, trend of development sits in practice. At SF, practical and reasonable are our core philosophy. We base our solutions on reality and facts, find the reasonable and practicable solutions, and always focus on quanlity by centering on product performance.

Company and product certificates:

· NSF certificate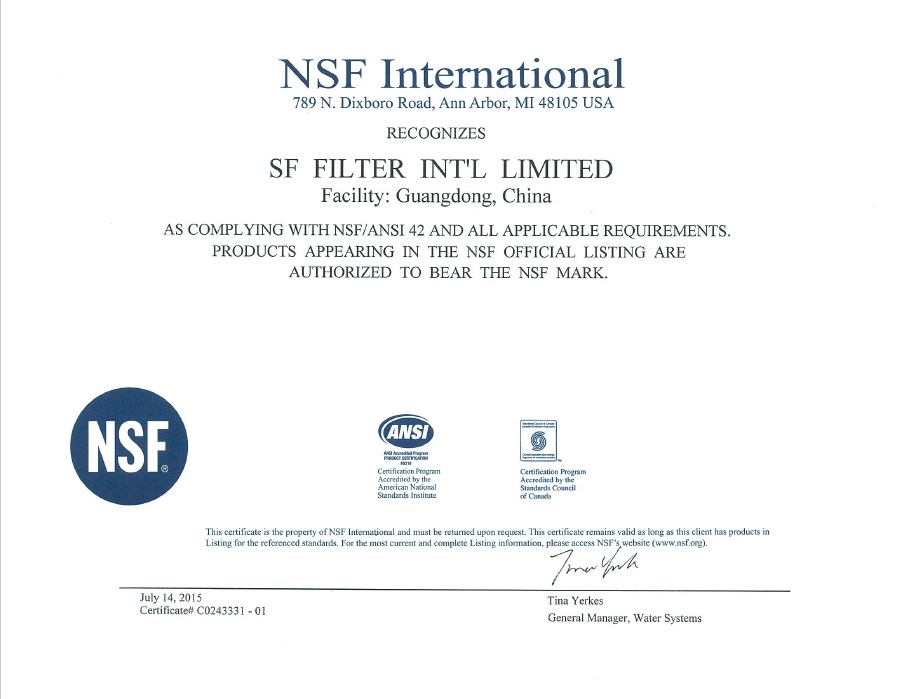 · WQA membership certificate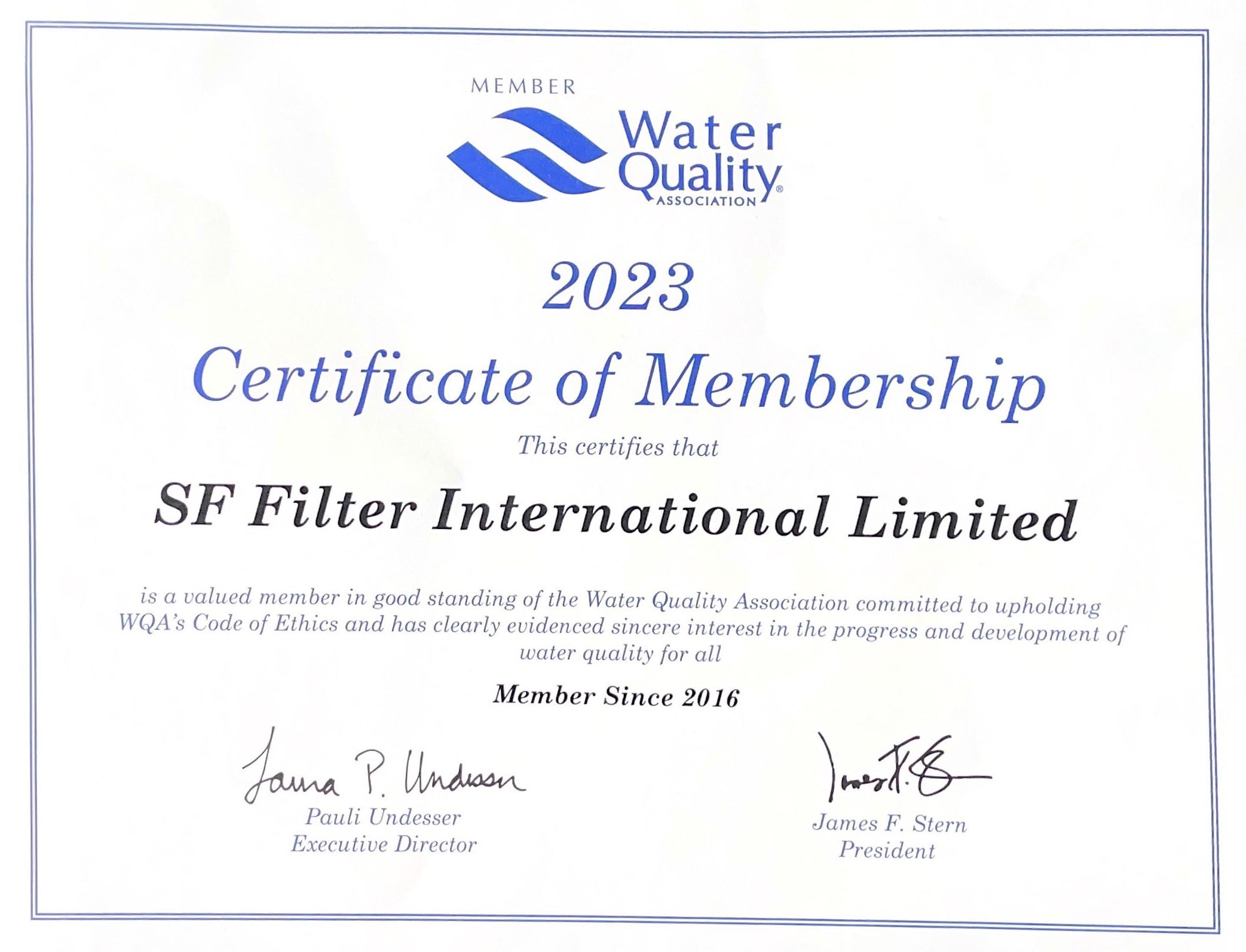 · ISO9001 management system certificate